Play for your Parks 50/50 Raffle
---
WINNING NUMBER!
The winning number is 004795.
The final pot is estimated to be $20,660!
Congratulations to the winner, Mariah McIntyre!
Feeling lucky this 4th?
Buy a Play for your Parks raffle ticket! Half of the proceeds will go to the winner, while the Glenview Park Foundation will receive the other half for support of the park district.
The Glenview Park Foundation raises money each year to support the enhancement of the visual aesthetics of our parks and facilities, as well as the park district's leisureships program which helps financially-strapped families pay for admission to park district classes and programs. The Foundation plans to donate half of the proceeds they receive from the 50/50 raffle to the park district in support of the Glenview July 4 celebrations.
Tickets are $20 and available at the main branch of the Glenview State Bank and at the front desk of Park Center throughout the month of June. Members of the Glenview Park Foundation and the Glenview 4th of July Committee will also be selling tickets throughout the community and at park district special events. The winner will be announced on the main stage at the Twilight Fireworks show on July 4 at 9 p.m.
We Have a Winner!
Congratulations to Mariah McIntyre and her family! Mariah is a former Glenview resident who was visiting her hometown with her husband and children during the July 4th holiday. They attended the Glenview 4th of July Celebration where they purchased their ticket and won a total of $9,734!
Read Mariah's full story here.
Thank you to everyone who purchased a ticket! We are humbled by the success of the fundraiser and appreciate your continued support.
---
Where to Buy Tickets:
Take Note:
Must be 18 to purchase tickets
Hold on to your ticket
Winner announced at the Twilight Show
Winner does not have to be present at drawing
If prize is not claimed within 7 days of drawing,
a new winner will be drawn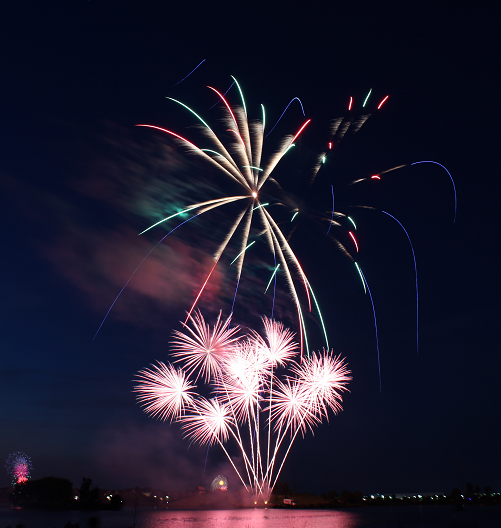 Glenview State Bank Main Branch
800 Waukegan Road
Park Center Front Desk
2400 Chestnut Avenue
Dairy Breakfast, June 8
Historic Wagner Farm
1510 Wagner Road
Summerfest, June 29
Glenview 4th Committee Booth
Lehigh Avenue
Twilight Fireworks, July 4
Gallery Park
2001 Patriot Boulevard
Note: Ticket sales end at 8:30 p.m.